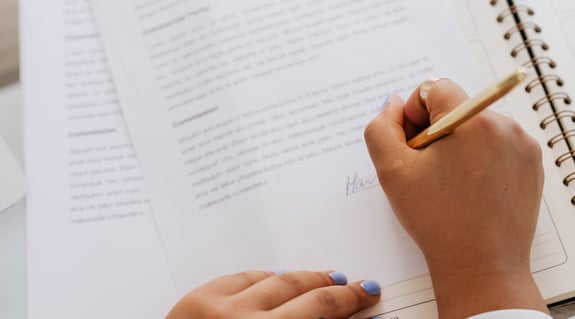 MARKETING SERVICE AGREEMENT
Please take a moment to review our marketing service agreement, terms and conditions and cancellation policy
TERMS AND CONDITIONS
Last modified 02.12.22
Definitions

"Agreement" is the signed contract, agreement, change order, renewed services agreement, or other binding document that references these Terms and Conditions. "Web Daytona" means Web Daytona, LLC., a Florida corporation. "Client" means a party that has agreed to an Order with Web Daytona.
Independent Contractor

Client is engaging Web Daytona as an independent contractor for the specific project outlined in the Agreement.
Warranty

Web Daytona does not warrant the number of sales per visitor that the Purchaser will make or the traffic or number of visitors that will visit Purchaser's specified website. Web Daytona expressly disclaims and excludes all express and implied representations and warranties, whether statutory or otherwise. The Parties agree that, except as may be expressly provided in this Agreement, neither has made or makes to the other any representations or warranties respecting the compensation that the other may expect to earn or receive pursuant to this Agreement, or otherwise. Search engine optimization inherently runs risks of algorithmic changes or manual optimization actions by search engines. Web Daytona offers no guarantee or warranty of present or future placement, received traffic, or traffic improvement in any specific search engine. If Client gives Web Daytona control over advertising budgets and allows Web Daytona to make changes to budgets on their behalf, Client agrees to hold Web Daytona harmless from any unanticipated overspend, underspend, or budget pacing. Liability for advertising costs and payments will lie exclusively with Client.
Liability

Web Daytona's liability for default or breach, including breach of any guarantee or warranty expressed within this Service Agreement, shall be limited to the lesser of (i) the amount actually paid to Web Daytona by Purchaser under this Service Agreement or (ii) ten thousand dollars. Web Daytona is not responsible for loss of income or projected loss of income for any reason, including, but not limited to, server failure, traffic variation, shipping cost variations, website unavailability, order decreases, search engine algorithm changes, manual optimization actions by search engines, keyword position decreases, data corruption, or data loss. Purchaser is responsible for, and Web Daytona has no liability for, the content, products, services, trademarks and other aspects of the website that are related to Purchaser's business, industry, and competitors.
Client Cancellation

Client may cancel this Agreement after twelve (12) months of monthly internet marketing services are completed, and payment of any outstanding invoices are fully paid. Web Daytona would only require a ninety (90) day notice of cancellation, in written email message format, prior to the annual renewal anniversary date of this service agreement.
Non-canceled recurring services auto-renew for a subsequent twelve (12) month period on the recurring yearly date of the initial services agreement. Renewed services utilize the pricing and deliverables on the date of annual renewal, shown on the webdaytona.com website and corresponding service plans for that subsequent twelve (12) month renewed period.
Changes in Fees and Plans

To keep client services and Web Daytona digital strategies innovative in an ever increasingly competitive and ever-changing online marketplace. Web Daytona annually adjusts our services packages pricing, plan and package deliverables, software subscription fees, Web Daytona sub-product subscription fees, and our hourly rates. These changes will become effective as of the first day of the renewal of your service term (unless otherwise agreed in writing with Web Daytona). For clients who do not have a fixed service term, the effective date will be the first day of the following month after the Change in Fees has occurred and has become visible on the Web Daytona.com website.
Payment of Fees

Payments must be made promptly. Down payments are required to begin your project and ongoing services payment terms are due upon receipt. If an amount remains delinquent sixty (60) days after its due date, an additional 5% penalty will be added for each month of delinquency. Web Daytona also reserves the right to remove web pages and created work from viewing on the Internet until final payment is made. In case collection proves necessary, the Client agrees to pay all fees incurred by that process.
Minimum Hourly Floor

Web Daytona needs to employ and retain talented digital marketers, developers, designers, Martech architects, engineers, etc, along with leveraging our technology infrastructure to keep our clients at the forefront of the industry. Web Daytona keeps a floor of $150 an hour, which the hourly rate of our service package & plans cannot fall under for more than a three-month span. If Web Daytona employee recorded time calculates to less than $150 an hour for services provided, Web Daytona will notify the Client that (a.) the fees for our plans & packages need to be increased above company hourly rate floor levels (b.) the fees the Client is paying remain the same, but a decreased scope of work needs to be agreed on by both parties (c.) Web Daytona can no longer support the provided services, and both parties agree to separate at the end of the month when a notice was provided by Web Daytona. With Web Daytona completing any remaining deliverables and the Client will pay all invoices for the current month when a notice was provided and any invoices which are still open.
Web Daytona Cancellation

Web Daytona reserves the right to cancel any or all provided services at any time. Web Daytona agrees to provide the client written notice of canceled services, software, hosting, or projects with a services end date on the last day of the month, for the month when the written notice was provided. Client agrees to pay Web Daytona for all services, software, hosting, projects, or portions of projects completed during the month when written notice of cancellation was provided by Web Daytona.
Venue

For any action involving matters of this Agreement, venue shall lie in Volusia County, Florida.
Applicable Law

This Agreement shall be governed by the laws of the State of Florida.
Non-solicitation

During the term of the Agreement with Web Daytona and for a period of three (3) years after the Termination Date of all Agreements with Web Daytona, Client will not directly or indirectly solicit, induce or attempt to induce any current employee, former employee, or vendor of Web Daytona to terminate his or her employment or services with Web Daytona or to perform any work or services for Client or any of Client's customers, vendors, or affiliated companies. Client acknowledges and agrees that the breach of this Section by Client would cause Web Daytona irreparable injury and agrees to fully compensate Web Daytona a minimum payment of at least three (3) forecasted future years of fully loaded compensation at a minimum.
Non-disparagement

During the term of this Agreement and for a period of three (3) years after the Termination Date of all Agreements with Web Daytona, Client agrees to take no action which is intended, or would reasonably be expected, to harm Web Daytona or its reputation or which would reasonably be expected to lead to unwanted or unfavorable publicity to Web Daytona.
Phone Calls and Web Meetings

When you are in contact with us by phone the call may be monitored or recorded for quality assurances purposes. Your continued participation in any telephone or web meeting conversations serves as express consent to be monitored or recorded.
Future Services

Future services performed for the Client as either hourly or quoted services will utilize all provisions of this Agreement unless a new Agreement is established. Web Daytona agrees to continue to update and adjust search optimization service and Internet marketing service plans in continued ongoing efforts to keep your website ranking as high as possible.
Modification

Web Daytona may make changes to services, products, and these Terms and Conditions at any time without notice. Your access or continued use of Web Daytona's services and products subsequent to such a change will signify your assent to be bound by such changes. Client is responsible for periodically reviewing this website to review the current Terms and Conditions.
Assignment

Client may not assign any Agreement or its rights and obligations under any Agreement or Terms and Conditions.
Severability.

The parties have attempted to limit the non-compete provision so that it applies only to the extent necessary to protect legitimate business and property interests. If any provision of this Agreement shall be held to be invalid or unenforceable for any reason, the remaining provisions shall continue to be valid and enforceable. If a court finds that any provision of this Agreement is invalid or unenforceable, but that by limiting such provision it would become valid and enforceable, then such provision shall be deemed to be written, construed, and enforced as so limited.
Injunction

It is agreed that if Client violates the terms of this Agreement irreparable harm will occur, and money damages will be insufficient to compensate Web Daytona. Therefore, Web Daytona will be entitled to seek injunctive relief (i.e., a court order that requires Client to comply with any and all Agreements and these Terms and Conditions) to enforce the terms of the Agreement and these Terms and Conditions. The prevailing party shall have the right to collect from the other party its reasonable costs and necessary disbursements and attorneys' fees incurred in enforcing all Agreements and Terms and Conditions.
Survivability

Sections 10, 11, 12, and 13 of these Terms and Conditions shall survive any termination of these Terms and Conditions.
No Waiver of Rights

If one Party breaches these Terms and Conditions, then the failure of the other Party to enforce any rights under these Terms and Conditions shall not be deemed a waiver of any such rights. The rights and remedies of the parties, as set forth in these Terms and Conditions, are not exclusive and are in addition to any other rights and remedies provided by law.
Authorization

By digitally signing my signature in Proposable, Email Affirmation or ClientPoint, Web Daytona's web based proposal and contract system, by physically signing or digitally approving an Agreement, or by agreeing to renewal or add new services verbally. I attest that I have read, understand, and agree to the above Terms and Conditions.
Master Terms and Conditions

This Order, together with the Master Terms and Conditions for Web Services and other terms and conditions incorporated therein by reference (collectively "Master Terms") located at https://www.Web Daytona.com/marketing-terms and incorporated by this reference, form the entire agreement between the parties in respect of the products and services set forth below. Notwithstanding anything to the contrary in any purchase order or other document provided by Client, any product or service provided by Web Daytona to Client in connection with a purchase order related to this Order is conditioned upon Client's acceptance of this Order and the Master Terms. Any additional, conflicting or different terms proffered by Client in a new sale agreement, purchase order or otherwise shall be deemed null and void. Each of the individuals executing this Order Form represent and warrant that he or she is authorized to execute the Agreement on behalf of Client or Web Daytona, as applicable.