During the last decades, digital marketing has been constantly changing and evolving. Moreover, with each coming year, the speed of transformation becomes faster leading to the emergence of new trends and concepts every year. According, to Digital Distress Survey 76 percent of respondents said that marketing has changed more in the past two years than in the preceding fifty years.
Today, we are in 2019 and digital marketing already changed a lot from 2018.
In 2019 there are completely new trends in digital marketing, and we discuss the 10 most prominent of them below in this article:
1. Artificial Intelligence (AI)
Artificial Intelligence and its use in digital marketing is probably the hottest trend of 2019. Although it is not clear from the first glance AI can be used in many different parts of digital marketing such as customer interaction, retargeting, customer segmentation, data and analytics, push notifications, customer behavior, buying habits tracking and for the tons of other useful stuff – you name it.
Marketers are already actively using AI for their marketing efforts and planning to increase the use of AI in the next 12 months according to BlueShift's study: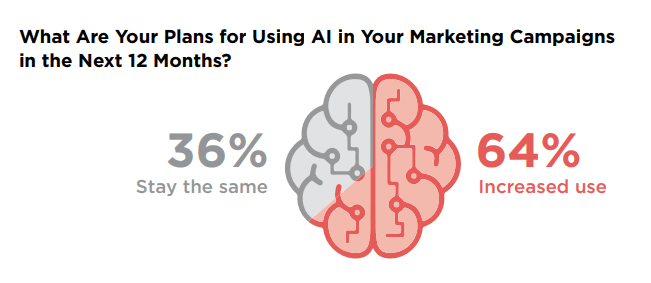 2. Omnichannel Marketing
Omnichannel marketing (from the Latin word "Omnis" which means "everything; all; every kind") has been around for a while and has already been among digital marketing trends during the past few years. But in 2019 omnichannel marketing is making one more step forward and looks like one of the major digital marketing trends of 2019.
In fact, there is so much behind this fancy word.
Omnichannel marketing is about integrating all available channels into one harmonized experience for the customer. Omnichannel marketing is often opposed to multichannel marketing. The major difference between these two similar concepts lies in the level of integration they provide.
Multichannel marketing is about the availability of multiple channels where a customer can perform transactions with a particular business.
Omnichannel marketing is about bringing all those multiple channels together by creating a uniform, seamless and consistent customer experience.
In general, omnichannel marketing is sort of a more advanced version of multichannel marketing and the trace of the latter can be clearly seen in the former.
Considering that the consumers:
are more sophisticated in 2019;

use multiple channels to learn about the business; and

thoroughly research the product or service they are going to buy using different channels;
it is important for businesses and marketers to make it easy for customers in 2019 to start their experience in one channel and to be able to complete their purchase on another channel.
With even the best businesses failing miserably in today's competitive world there is no reason for not exploring the new and trendy marketing concepts like omnichannel marketing and not including it in your digital strategy.
3. Video Marketing
Video has been one of the top digital marketing channels during the last couple of years and will continue to grow further in 2019. Increasing use of different video formats is the main trend of video marketing this year.
There are two independently important video marketing factors to keep in mind for marketers in 2019:
First, is the fact that video marketing is not limited to YouTube only and can be applied in many other places as well. Marketers who do not limit their video marketing efforts to YouTube only and leverage the combined power of different video platforms such as Instagram, Facebook Video or LinkedIn are likely to see better results in 2019.
The second factor is that live video is becoming almost as important as a standard video. There are certain advantages of live video such as better authenticity, some sort of exclusivity and a stronger sense of urgency that standard videos lack. This factor can have a big impact on video marketing efforts this year.
It's also important to note that the downward trend of video equipment prices and increasing quality of available video cameras (including smartphones) will continue during 2019.
This year we are likely to see the newest video formats more frequently compared to the previous year. For example, 360 panoramic video which is already available online will be more frequently seen in during 2019:
4. Voice Search
According to ComScore, 50% of all searches will be voice searches by 2020. And it is 2019 now.
Voice is the trend of today and will continue being so during the whole of 2019. Siri, Google Assistant, and Alexa – all those tools are liked and used by consumers all over the world and heavily contribute towards the popularity of the voice search.
It is important to note that the voice search is also more about long tail search queries where users ask more specific questions compared to text search where the shortest possible variation of the query is usually typed by the user: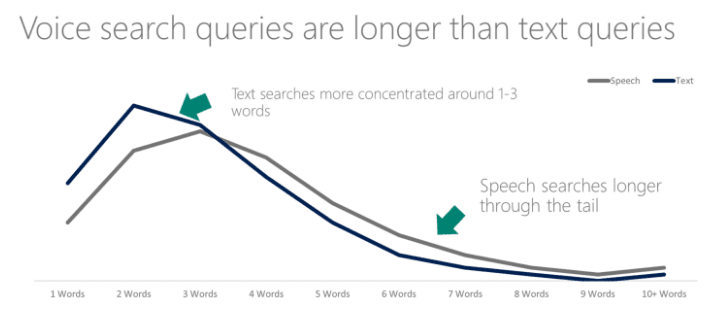 5. Chatbots
When it comes to digital marketing and sales, chatbots are extremely useful. They can be tailored in many different ways and for many different purposes to fit the needs of every type of online business out there.
The spectrum of chatbots usage is impressively wide. Chatbots (particularly when powered with AI) are great for customer service (faster, proactive and more efficient customer-service and shorter waiting times), cost saving, advanced data and analytics, smart cross-selling and upselling and so much more! No matter what business you run or going to start (with so many great website ideas out there you should start thinking about launching one if you have not done so already) chatbots are your best friends in 2019.
Chatbots help to reduce human factor and increase communication capacities. They help companies to scale their marketing efforts and put it to autopilot. They also are capable of positively influencing your sales numbers particularly considering that 90 percent of all purchase decisions are made subconsciously.
6. Search Intent
Search intent is probably going to play a bigger role in search marketing (which is a big part of digital marketing) in 2019. Importantly, this is perfectly in line with the main objective of Google as a search engine – matching searcher's query with the most relevant results that answer their specific question or perfectly matches their intent.
So, in 2019 it is even more important to go a little beyond the traditional boundaries of search engine optimization and think about the searcher's true intent behind the keywords and try to focus on it while creating or optimizing your content.
SEOs and marketers who will manage to better address this issue are expected to see better results from their search engine marketing efforts in 2019.
7. Marketing Automation and Email Marketing
Putting marketing efforts on autopilot has been a long-lasted dream of marketers for multiple generations.
Well, the good news is that we are getting closer to that dream with each coming year. 2019 will not be the exception in this sense and marketing automation and particularly email marketing automation will maintain and even rise in its importance with new tools and technology emerging to provide more opportunities in this channel for marketers.
Email marketing automation with better personalization will be of particular importance in 2019 especially with GDPR being introduced in 2018 which will have an inevitable effect on your email list if you have visitors from EU countries (this applies to almost any website on the web). GDPR is likely to start limiting your email subscribers only those people who really want to receive communication from you.
This is in fact a positive thing when it comes to personalization. Sending highly targeted personalized emails to people who really want to hear from you can help to achieve better open/conversion rates and overall better business results in 2019.
8. Augmented and Virtual Reality
Two more fancy sounding concepts (just like AI or Omnichannel Marketing) that everybody has heard of but not everyone fully understands. Augmented Reality and Virtual Reality have substantial marketing potential and more brands compared to 2018 are expected take advantage of them in 2019.
Some brands are already using these two relatively novel channels for their digital marketing. Two Swedish brands Ikea and Volvo are doing particularly good with AR and VR.
Here is what they do:
Ikea's Mobile AR App – Ikea Place:
Volvo's Virtual Test Drive:
9.
9. Content Marketing
In 2019 digital marketing will continue to mainly evolve around content – be it text, video, audio or any other format. Content will stay as one of the most important components of digital marketing just like it has been doing so during the last decades.
What is particularly good about content marketing is the fact that it is still a quite flexible, affordable, accessible and customizable component of digital marketing. Businesses of all sizes starting from very small and all the way up to the huge corporations – they all can find some room in content marketing to leverage it for the benefit of their businesses.
There is an audience online for literally every single topic and niche out there on all available mediums. Thus, with better tools and data content marketing has all chances to advance to all new level in 2019.
10. Messenger Marketing
This is a relatively new term and new concept that emerged after people started moving away from social media and going to messengers instead. This process still goes on, but the most important shift has already happened.
Messengers surpassed social media in 2015: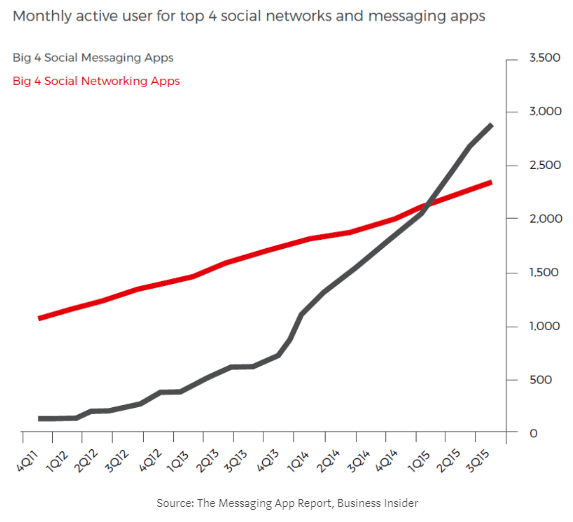 As you can see from the graph above customers are not on social media anymore. They are on messengers.
So are the businesses.
And this is normal. If customers are on messengers businesses will sooner or later move there too. This move is expected to accelerate in 2019.