It's no secret that enhancing social media engagement is a smart business tactic. But, have you considered your response to those interactions?
According to The Manifest, consumers communicate with brands on social media through:
Liking their posts

Leaving reviews

Mentioning a brand on their own profile

Direct messaging a brand on social media
For each method of communication customers use to reach companies on social media, there is a corresponding best practice for your business:
Don't Respond to "Likes"

Respond Publicly to Reviews

Like and Comment on Brand Mentions

Send a Response to Direct Messages
This article discusses how to react to the different types of social media engagement you'll encounter.
Don't Respond to "Likes"
There is no action required when a customer likes a post on any of your social networks.
Customers are showing a simple display of support, and they don't expect to hear back from you.
On Facebook, users react to posts using a variety of emojis ranging from a surprised face to an angry face.

Source: The Sun
It's incredibly challenging for businesses to understand the intent associated with someone "liking" your content, which makes it unclear what value, if any, your business can gain from responding.
Instead, companies should focus their energy on crafting responses to other types of engagement.
Respond Publicly to Reviews
Companies should respond publicly to the reviews they receive on platforms such as Google Reviews, Facebook, and Yelp.
Depending on the severity of a negative review, executives should reach out to the user via a private message, too.
Crafting a custom response to feedback demonstrates an investment in your stakeholders' happiness that potential leads will notice.
Your response to compliments and complaints will differ. For example, effective responses to positive reviews should:
Include the customer's name

Express appreciation

Reference the future (i.e., how you'll improve)
Negative reviews should also be personalized to the customer, but they'll look a bit different. Responses to customer complaints should:
Display empathy

Include an apology

Offer a resolution
If a customer named Chris posted a negative review of a family-owned bookstore, an effective response could be:
"Hi Chris. Thank you for taking the time to leave feedback. My husband and I are terribly sorry you had a frustrating experience at our shop. It must have been difficult to find the genre you were looking for. We've now posted larger signage above each section. Please stop by our shop for a personal apology and a tour!"
This response offers empathy for Chris as well as a solution to the challenge he faced.
When your company replies to online reviews, it shows you care about your customers.
Like and Comment on Brand Mentions
It's important to respond to a customer who mentions your company on their profile.
When a user publicly supports your brand, they're effectively promoting it to their followers. This valuable endorsement shouldn't go unnoticed.
A "like" and a simple message are all that's required for a friendly interaction.
Your response can depend on the platform and your brand voice. For example, Postmates responded to a mention on Twitter with a cat video.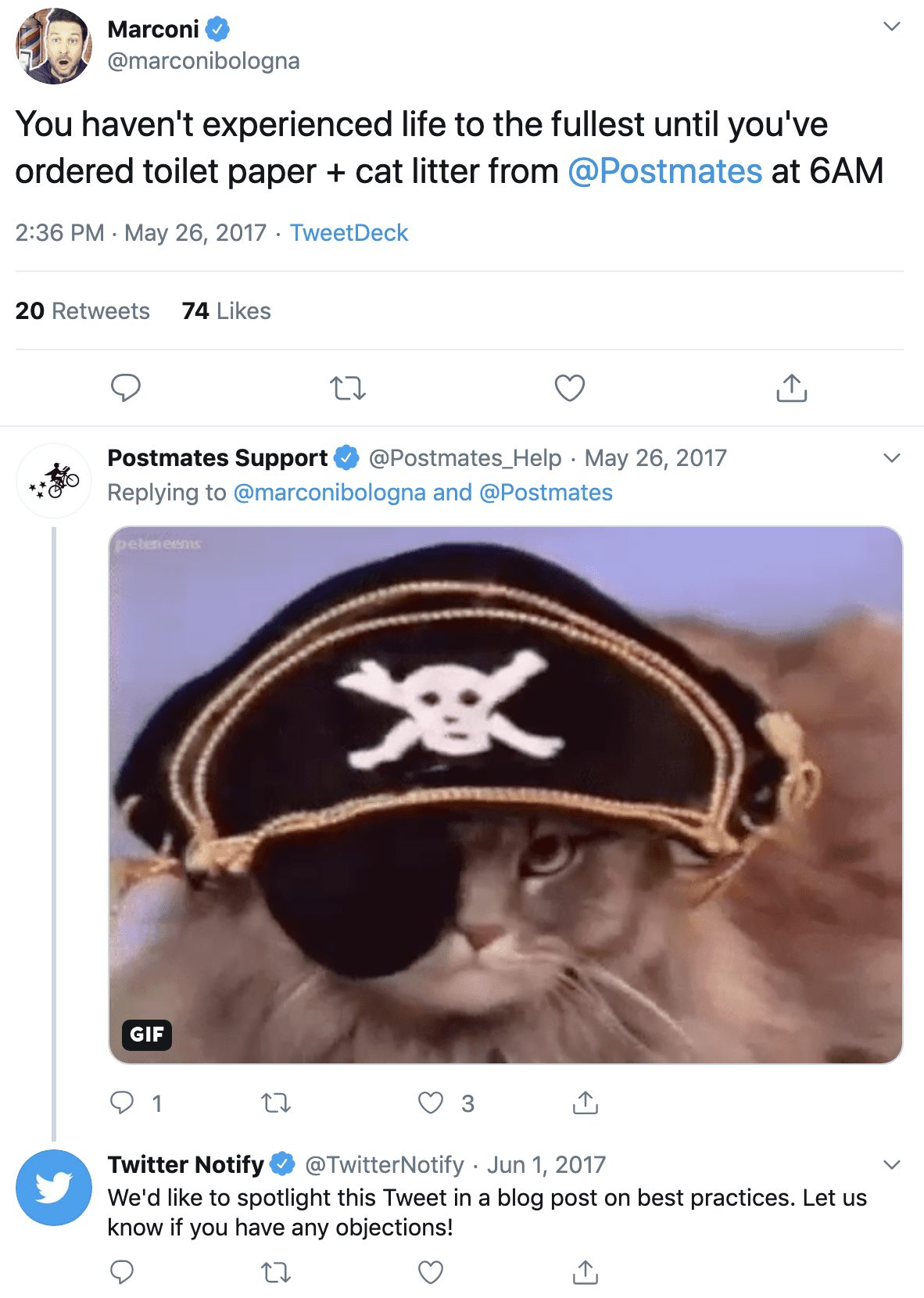 Postmates customized their response to the mention. They also added value by delivering comic content that resonates with their audience.
Reacting to mentions will spur more engagement, show you care about your customers, and encourage similar interactions.
Send a Response to Direct Messages
Customers anticipate a response to direct messages. To match this expectation, your business should send a professional, prompt message in return.
Instagram, a popular platform for sending direct messages, allows businesses and marketers to send quick replies to consumers. The automatic messages address common questions and maintain brand consistency.
If you aren't using Instagram's quick replies, make sure you're still responding. Your reply should be short and grammatically correct. It should also align with your brand voice.
Replying to direct messages shows consumers you're a responsive, invested company.
Capitalize on Social Media Engagement
Social media users expect companies to respond to most of their brand interactions. A strategic response has the power to foster ongoing relationships with your consumers.
If your business is lacking the resources, consider hiring a social media agency to kickstart your engagement strategy.
You're missing opportunities to build brand loyalty if you aren't reacting to your stakeholders on social media. Log into your social networks, and start today!